While energy efficiency and hurricane protection is an important element for windows, we can't forget the element of safety for our kids. Unfortunately, children can quickly become attracted to windows due to their bright natural light and pretty views of the outdoors. If you aren't careful, windows can be very dangerous to kids—but there are ways that you can be proactive and potentially save lives.
1. Keep Your Windows Locked
This might be a common sense safety method, but this is one of the best ways to keep kids from falling out of windows while you aren't looking. Locking your windows only takes seconds, and it's certainly worth the extra time to make sure your children are safe.
When it comes to locking your windows, keep the following window safety tips for kids in mind:


Regularly Check Locks: Periodically inspect the locks on all windows, especially those within reach of children. Ensure they are functioning correctly and repair or replace any faulty locks immediately.
Educate Children: Teach children about the dangers of open windows. Explain why they should never play near windows, especially those that are not on the ground floor.
Routine Locking Habit: Make it a habit to lock windows after closing them. Incorporate this into your daily routine, just like locking doors at night.
Use Childproof Locks: Consider installing childproof locks or latches. These devices can prevent windows from opening more than a few inches, providing ventilation while ensuring safety.
In addition to locking your windows, Centers for Disease and Control Prevention suggests that you install window guards on windows that are above floor level.
2. Keep Play Areas Away from Windows
Windows are tempting to children at times in terms of play. One way to help keep children away from windows is to move play areas to another location in your home. This way kids can be distracted by their toys and playtime rather than attempting to climb their way out the window.
Try some of the following tips for keeping kids away from windows during playtime:


Designate Safe Play Zones: Establish specific areas in your home that are designated for play. Choose locations that are centrally located and away from windows. This not only minimizes the risk of window-related accidents but also makes it easier for you to supervise playtime.
Rearrange Furniture: If your current layout has play areas near windows, consider rearranging furniture to create a safer environment. Remove furniture pieces that children can climb on or near windows. This reduces the temptation and ability for children to access windows.
Create Engaging Play Spaces: Make these play areas attractive and engaging for children. The more appealing the play area, the less likely children are to wander towards windows. Include a variety of toys, books, and play mats to keep them interested and engaged.
Regular Supervision: No matter where the play area is located, regular supervision is crucial. Always keep an eye on children during playtime, especially if they are playing in rooms with windows.
3. Keep Cribs and Beds Away from Windows
In addition to play areas, keeping cribs and beds away from areas is a good idea as well. You shouldn't keep a crib close to a window at all, since a young baby may grab long curtains and pull the rods down on top of the crib.
With older kids, they may try to climb up on the bed to gain access to the window. Be sure to position the bed to another area of their bedroom for safety.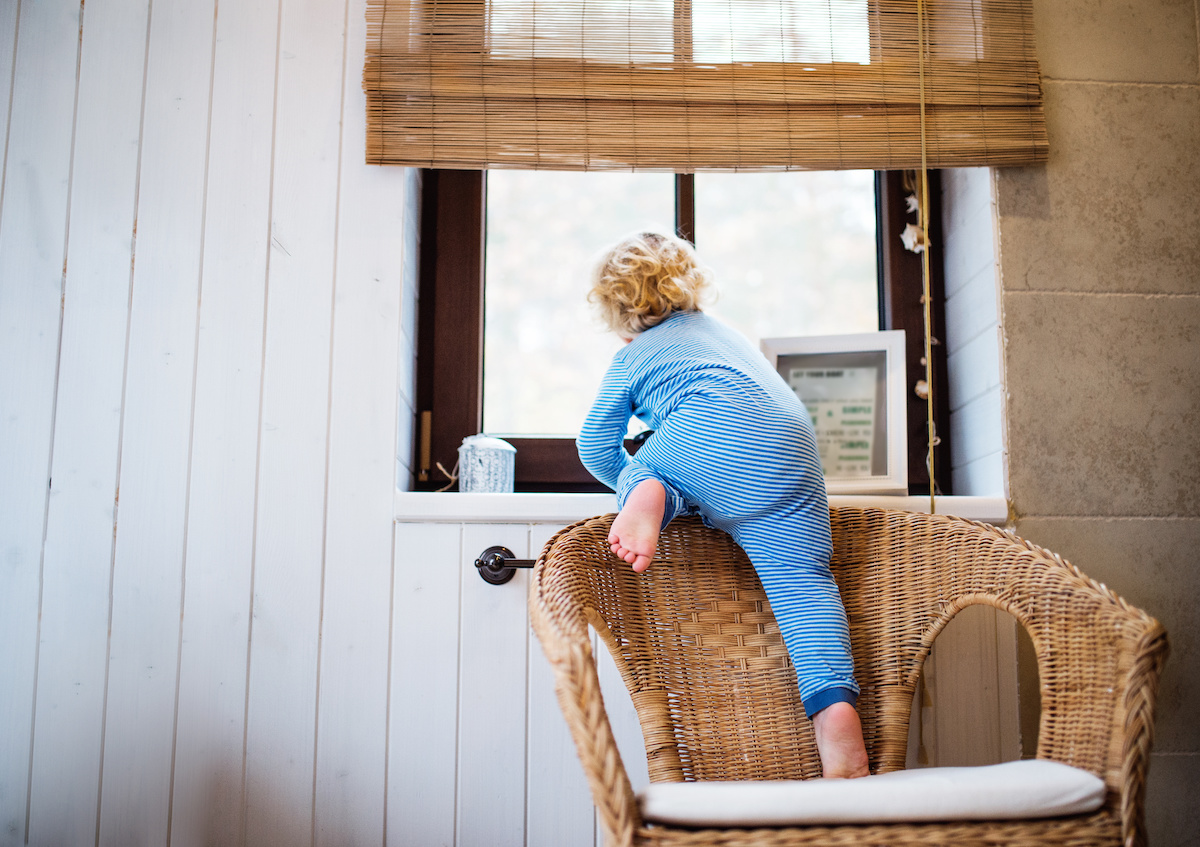 4. Don't Count on Insect Screens to Break a Fall
The last thing you want to do is to count on screens to break a fall of a small child. These window screens are only capable of handling so much pressure—which is much less than the weight of a child.
5. Keep Window Covering Cords out of Reach
Unfortunately, falling from windows isn't all that a parent needs to worry about. Window cord strangulation is also a real concern. According to the US Consumer Product Safety Commission, one child per month dies in an accident relating to strangulation from a window cord covering.
When it comes to cords and window safety for kids, you can never be too careful. Cords put kids at risk in many ways, including:

Strangulation Risk: Window cords, especially those with loops, pose a significant strangulation hazard to young children and infants who can become entangled in them.
Accessible to Small Children: Cords often hang at a level accessible to small children, increasing the risk of entanglement and strangulation, particularly for toddlers who are exploring their environment.
Unseen Danger: Parents and caregivers might not always recognize the danger of window cords, leading to less vigilance in monitoring children around them.
Attractive to Play With: The dangling nature of window cords can be tempting for children to play with, increasing the likelihood of accidents.
Hidden Hazard in Bedrooms: Window cords in bedrooms, especially near cribs or beds where children sleep, can be particularly dangerous if a child reaches them unsupervised.
Difficulty in Escaping: Once entangled, young children may lack the motor skills or strength to free themselves from window cords, increasing the risk of serious harm.
Choking Hazard: Apart from strangulation, younger children may also be at risk of choking if they put small parts of the window cords or blinds in their mouths.
Get Secure and Energy Efficient Windows Installed from Storm Pro Window and Door
Simply put, the best way to prevent accidents involving children and windows is to supervise when children are at play. Keep these window safety tips for kids in mind at all times.

For windows that provide peace of mind, contact us for a free estimate on hurricane impact windows. Designed to withstand Mother Nature's strongest storms, we help keep kids safe with sturdy and durable locks that last.